Perfect for couples & families or those wanting seperate rooms
The Freedom II Motorhome is a 2022 RollerTeam 685 sleeping up to 4 people.
An ideal motorhome for those who enjoy entertaining guests or wish to get away for quality family time, the Zefiro 685 benefits from being a fixed twin bed motorhome and also features a lounge area that can easily seat five when using the swivel captain seats.
This fixed twin bed motorhome also features a drop-down double bed, allowing the Zefiro 685 to comfortably sleep four people. The table in the lounge area makes way to enjoy mealtimes which can always be enticing thanks to the surprising spacious kitchenette. Getting ready for an evening out or just a day of exploring your new destination is a breeze thanks to a bathroom with separate shower cubicle. The light soft furnishing provides a homely feel and airy sense, thanks to the contrasting natural light from the overcab skylight. It is extremely popular with couples, families and friends going camping or to festivals. The rear garage is deceptively spacious as is the under bed storage.
There is a full kitchen, including 3 burner gas hob, gas oven, sink and larger than average fridge with freezer compartment.
Hot water to all taps and shower whilst a hot air distribution system provides central heating. Fly screens and blackout blinds are available for all windows and habitation door.
There are 4 travelling 3 point seat belts.
Reversing camera fitted to help manoeuvring, alarm & tracker also fitted.
Features & Specification
Capacity:

Gearbox: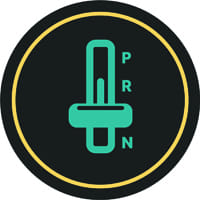 Features: Light & Airy Motorhome with Twin rear beds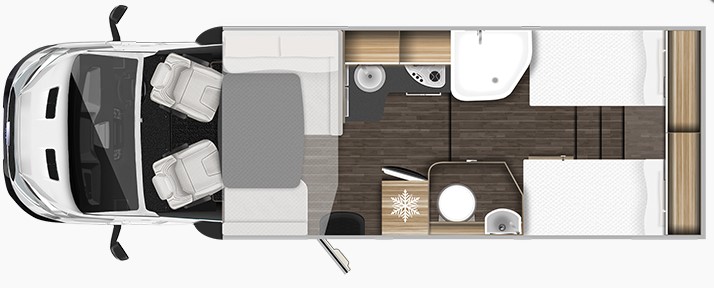 Whats included as standard?
Free personalised vehicle familiarisation tour before you depart
5G Wifi hotspot for upto 10 devices
Stereo system
Bike Rack for upto 4 bikes
Refillable LPG gas system
Solar Panel to keep the Leisure Batteries topped up to extend off grid periods.
Generous mileage allowance
Comprehensive UK insurance for 1 driver
Roadside assistance
Large UK and European road Atlases (to be left with the vehicle)
Kitchen Starter pack (Tea, Coffee, Hot Chocolate & Sugar, an assortment of Sauces including: Ketchup, Brown and salad cream & vinegar)
Kettle (Gas and Electric)
Toaster (Electric)
Crockery, Cutlery and glasses
Pots, Pans and Cooking Implements
Cleaning items including wipes, tea towels, kitchen and toilet rolls, washing up liquid, and cleaning equipment
Cadac Gas BBQ
Fresh water Filling hose
Electric hook up cable and EU adapter
European Travel Pack (beam benders, bulb and fuse packs)
Toilet Paper and Chemicals (1 dose per day)
Levelling Ramps
Warning Triangle
Carbon monoxide detector
Smoke alarm
Fire extinguisher and blanket